The HST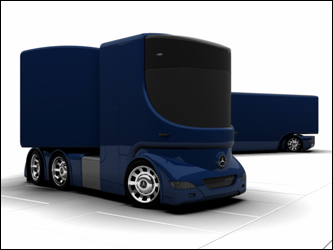 Summary | Images
The HST is a vision for future European long-distance road haulage. Designed to transport a high volume of widely accepted palletized and containerized cargo units, the concept features a proposed overall length of 29 metres with a proposed maximum gross combination weight (GCW) of 65 tonnes. Although the HST is considerably larger than contemporary articulated trucks, the concept would be no more difficult to manoeuvre.
By means of a comprehensive yet straightforward computer, the HST would be as simple to operate as a modern passenger car. With a 2.90 metres long cab, the concept would provide a working and living environment that would be far more comfortable than contemporary "cab over engine" trucks.
With reference to contemporary trucks, the HST would feature extraordinary fuel efficiency, a significantly improved driving experience, a higher level of active and passive safety, and enhanced environmental and infrastructural considerations.
Please download the "Overview" for more information.