The Safari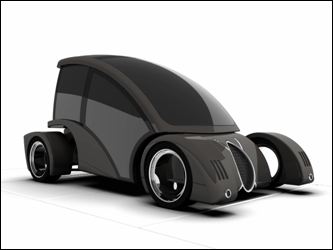 The Safari is an innovative compact car that aims to provide large car dynamics.
Larger cars are safer due to their greater energy absorbing capabilities on impact. The Safari incorporates independent structural composite fibre panels (ahead of the bulkhead) that shatter in stages – gradually absorbing high impact energy in a compact frontal enclosure. By utilizing integral sliding doors to stress the door aperture, accident energy absorption is improved in side impacts and rollovers.
Furthermore, larger cars are more comfortable and stable at cruising speeds due to their longer wheelbase and track. The Safari incorporates a variable wheelbase and track that increase with speed, providing large car comfort and stability.
The unique MAGLEV driveline (patent pending) enhances the efficiency of the fuel cell power plant, which is integrated into the floor. The structural composite plant fibre body reduces the carbon emissions generated from industries producing steel body panels.
The aura of spaciousness is enhanced with a Head Up Display (HUD) and a centre console joystick, which eliminate the conventional dashboard and steering wheel. Wraparound transparent panels enhance visibility and airiness. Advanced proximity sensors and four-wheel steering assist with parking and accident avoidance.
The Safari was developed with Henry Kamau.