The SCC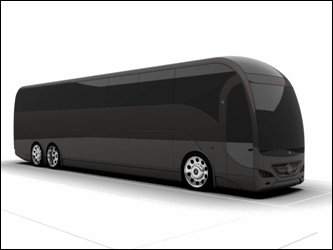 The SCC is a beautiful coach designed for the future (2020) luxury touring coach segment in developed markets.
It could succeed the successful Mercedes-Benz Travego range.
Key features would include:
- Expansive glass panels for excellent driver visibility.
- High-back ventilated driver's seat with head, arm, and thigh rests and with integrated massage.
- Partitioned passenger compartment with panels that follow the arch of the B-pillar.
- High-back passenger seats with head, arm, and footrests.
- Multichannel audiovisual entertainment system with individual TFT screens and headphones for passengers.
- Skylights throughout the roof with electrochromic glazing.
- Rear WC/Galley/Attendant area.
- Dynamic front slope with unique B-pillar design and "glass palace" effect.
- Three-dimensional front panel design that resembles the current Travego.
- Rear light clusters inspired by the Mercedes-Benz W221 S-Class.
- AC unit positioned at the chassis level, rather than on the roof.
- Solar cells on the roof that assist in powering the AC unit.
- Low profile horizontally-opposed engine.
- Clean, Simple, and Elegant design.