The SCT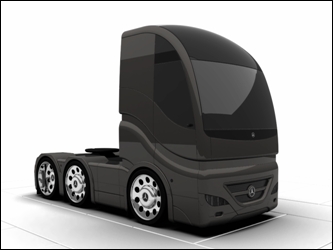 The SCT is a dynamic truck designed for the future (2020) long-distance haulage segment in developed markets.
It could succeed the successful Mercedes-Benz Actros range.
Key features would include:
- A single entry door positioned curbside.
- An ergonomic stairway.
- Expansive glass panels for excellent driver visibility.
- High-back ventilated driver's seat with head, arm, and thigh rests and with integrated massage.
- Wraparound overhead storage console above the windscreen.
- Co-driver/Activity seat located at the rear.
- Workstation and stand-up storage console at rear corners.
- Telescopic overhead bunk that ascends to increase headroom.
- Large skylight with electrochromic glazing.
- Dynamic front slope with unique "glass palace" effect.
- Compact nanofluid radiator for a sleek and low nose.
- Three-dimensional wraparound gully.
- A low flat floor (facilitated by a low profile horizontally-opposed engine).
- Clean, Simple, and Elegant design.