The Vayro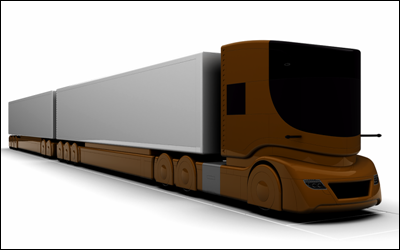 Summary | Images
Conceived as a vision for future (2020) North American long-distance road haulage, the Vayro is an endeavour to meet the demands brought about by increasing freight transport volumes. The concept intends to meet these demands with minimal environmental and infrastructural impact.
Background
Globally, long-distance road hauliers operate in a challenging environment. Freight transport volumes continue to increase and are expected to increase considerably by the year 2020. Nevertheless, contemporary trucks are ill-suited to manage these increasing freight transport volumes effectively. Thus, the demands for productive, fuel-efficient, and safe long-distance road haulage solutions are strong.
By the year 2020, the detrimental effects resulting from the continued use of fossil fuels are expected to be of even greater concern. Thus, the demands for environmentally friendly long-distance road haulage solutions will be especially strong. Moreover, in order to circumvent expensive infrastructure modifications and maintenance costs, these solutions must also be infrastructure friendly.
Please download the "Overview" for more information and the "Gallery" for high-quality images.